THE NATURAL HISTORY ROOM
Hurricanes Case
Welcome to "1935 Labor Day Hurricane" shelf.


[

Click Here

for our home page for all 1935 Hurricane related files.]


Page 1
This page by Jerry Wilkinson

- The Residents -
(Let's begin with some representative groups who would have been present in the Upper Keys when the 1935 Hurricane struck. Remember to click on the image to enlarge once. Each photo contains "a thousand words" so one may wish to look for details. J.W.)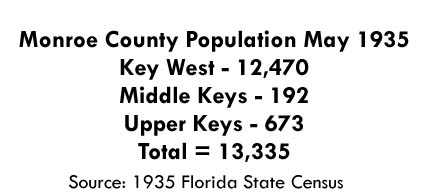 The population density of the Upper Keys at the time the hurricane struck is important. The above figures are from Long Key to the Card Sound Bridge on north Key Largo. What is not shown are the transient or temporary personnel who are not counted as official residents on a census. The largest in number present were about 750 World War I veterans building a bridge to begin the elimination of the ferry boats. They were not counted.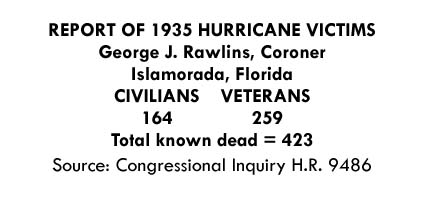 There were 62 additional bodies found after Mr. Rawlins filed his report ot a total of 423; therefore, 485 was the final officially verified number - April 28, 1936. The largest change was the death of civilians was upped to 228, while the veterans were decreased to 257. More bodies and skeletons have been found in later years.
This high number of victims of a relatively sparsely populated area is of significant. It occurrence on the Labor Day week end should be considered. Many of the veterans were away and scheduling of a relief train was more difficult than normal.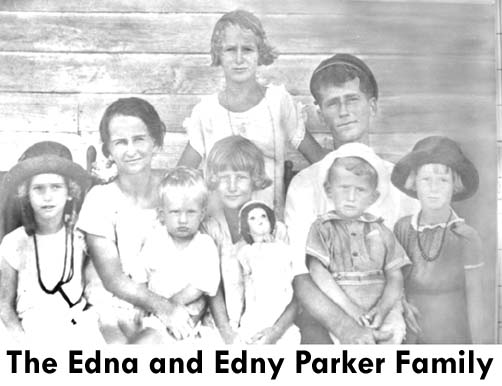 Shown above is the Parker family of Matecumbe which is representative of a pioneering Upper Keys family.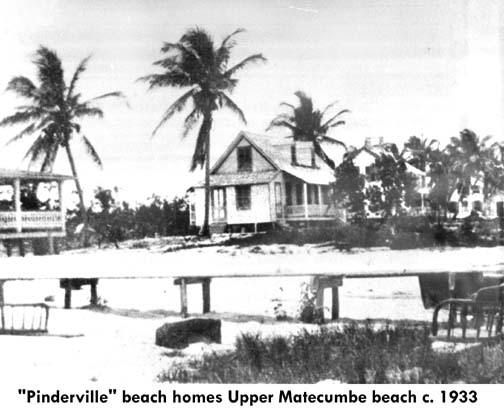 Most homes were of wood and along the Atlantic beach. This took advantage of the summer breezes, less afternoon sun heating, fewer mosquitoes and away from from the winter "northwesterners." This row of homes were located at about MM 81.3 in the Pinderville part of Matecumbe now known as Islamorada.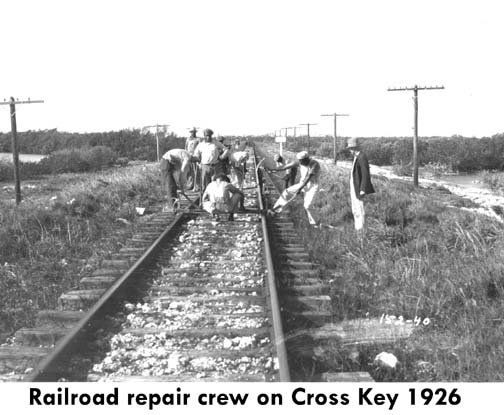 There would have been permanent railroad crew personnel as well as transient workers. Typical workers would have been sections gang personnel for repair, station agents, water tower operators, etc.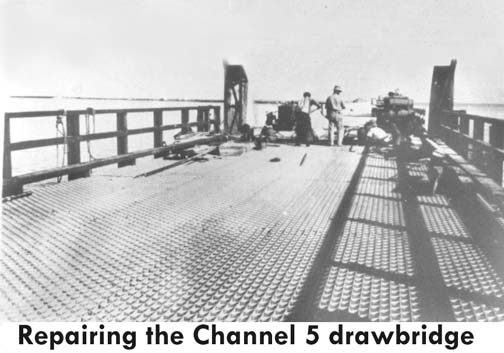 There were not a great number of State Road Department personnel for routine repair of the Overseas Highway. However, there was a second group overseeing the construction of the new bridge by the Federal Emergency Relief Administration (FERA) from Lower Matecumbe Key to Jewfish Bush Key (now Fiesta Key).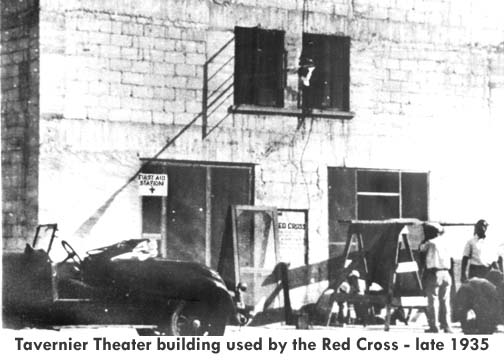 Even though the above photo is post hurricane, the concrete block theater building was being built in Tavernier principally for the veterans before the hurricane. It is presently a hotel. Now for the veterans.
Continued on Page 2