Building the railroad that Went to Sea with photos.

Page 1

Welcome to the Locomotive Room.
Work Locomotives

By October 1906 significant progress on railroad bed preparation had been made throughout the Upper Keys. Track had been completed to Jewfish Creek by November. Work on the Jewfish Creek Bridge was delayed so it was decided to barge a work train across Lake Surprise.
An untitled newspaper clipping dated October 29, 1906 stated: "Some weeks ago engine No.10, intended for use in construction work on the Keys, arrived from St. Augustine. This morning the same engine and several box and flat cars were sent down the line to Homestead, then south 17 miles on newly constructed track to the coast of Jewfish Creek. At that place they loaded onto barges and ferried across the stream to Key Largo. Engineer Goethe had the honor to pull the first train of cars on the Florida Keys."
Regardless we have a series of three photos of the moving operation.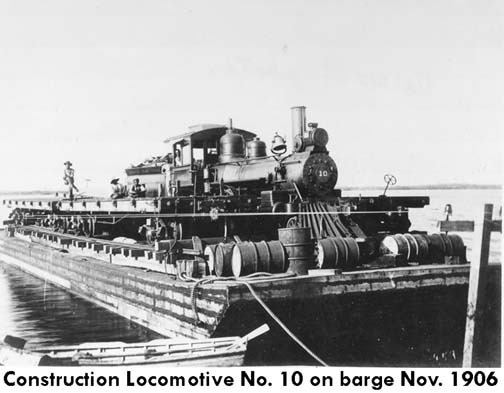 Old Ten Spot is shown here on the barge on Lake Surprise.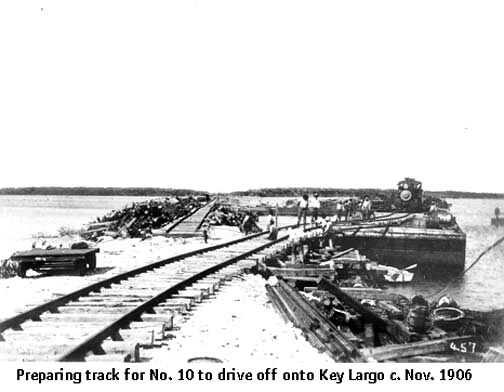 Above track is being laid to drive No. 10 off the barge.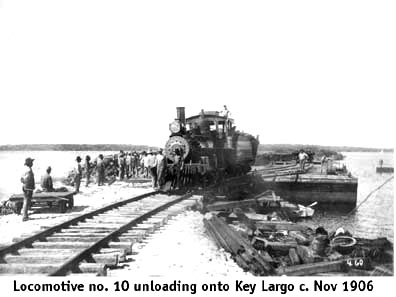 Here No. 10 is rolling off onto Key Largo. She will be ferried across Long Key to Key Vaca November 5, 1907.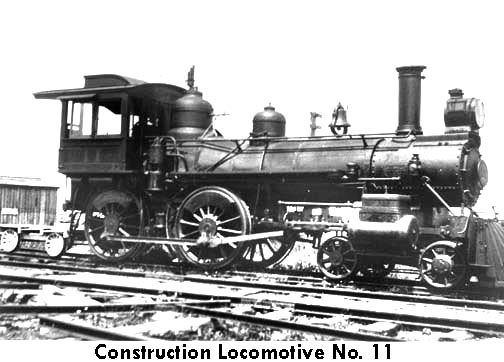 From another untitled newspaper clipping, but dated January 21, 1907: "Engine No. 11 for the extension was brought down by Conductor Yarborough and Engineer David. It is the same type machine as Engines Nos. 10 and 12, which have already been brought here and assigned to extension work. No. 11 will be used to haul freight and supply trains between Miami and Jewfish Creek." Engine No. 12 will be ferried onto Stock Island June 26, 1910. Engine No. 10 followed on September 3, 1910. All three were made in 1892 and were the 4-4-0 wheel arrangement.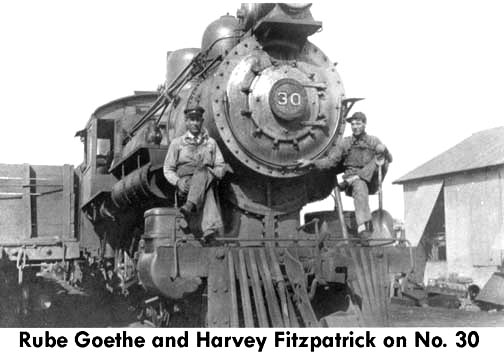 Not much is known about this locomotive except it was made in 1897 and was a 4-6-0 wheel arrangement..