Welcome to Submerged Cultural Resources of the Coral Reef
This page by Jerry Wilkinson
First a word of caution. All these images were taken inside federally protected waters. Objects are not to be touched, moved or in any way physically molested. The size of the image does not indicate the actual size.
Click on the image for some enlargement then click "Back" to return here.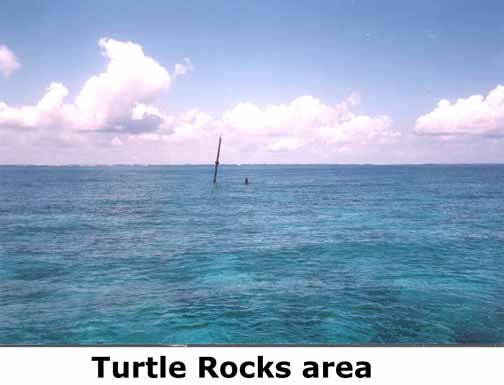 The reef is not as prominent approaching the Turtle Rocks area from the Atlantic and may have contributed to considerable ship wreck here. It was chosen as the location for lightship Florida and Caesar before Carysfort Lighthouse was constructed.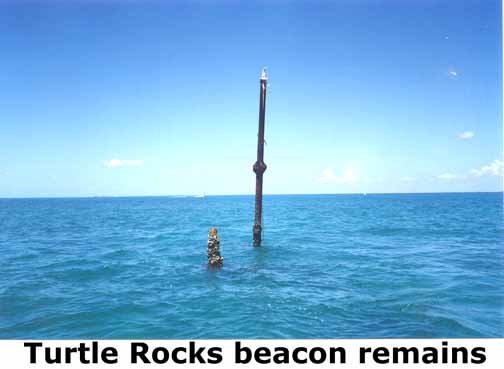 Various kinds of beacons were used throughout history. This is probably the remains of a 1850s screw pile day marker.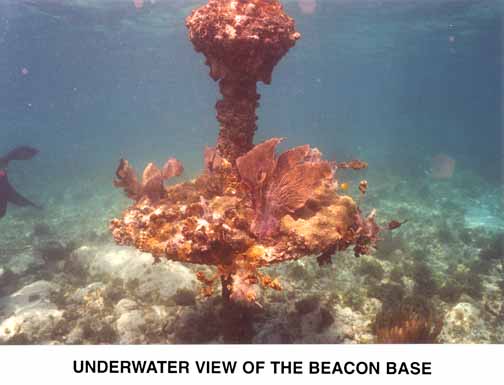 A view of the base of the above marker.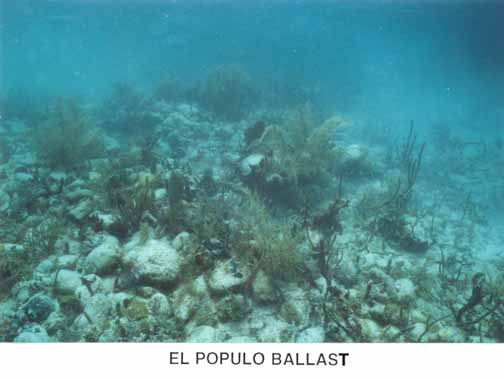 The El Populo is one of the 1733 Spanish fleet wrecks and lies in Biscayne National Park. As seen, there is a moderately large ballast pile at the base of a large coral mass with patches of sand.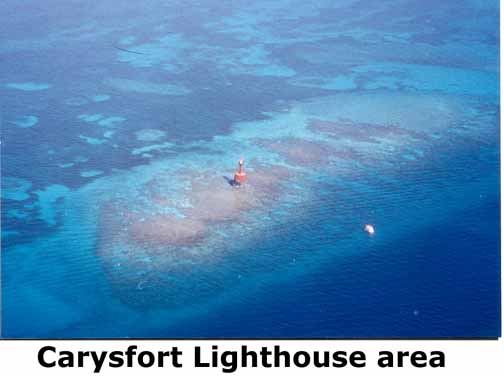 In early times the name Carysfort was used generically for many miles each side of Carysfort Reef. The lighthouse was put in operation on March 10, 1852 and the lightship Florida moored nearby in Turtle Harbor was moved.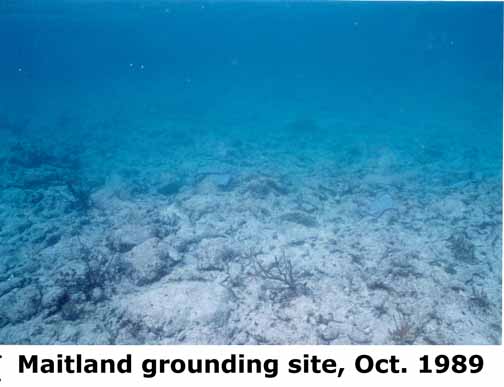 The 155 foot, 244 ton Maitland grounded at this location on October 25, 1989 doing considerable damage to the coral reef. Some restoration has been done.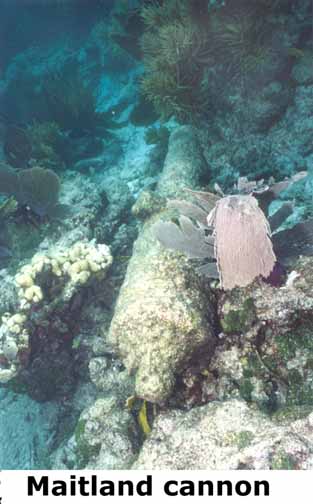 The Maitland Reef cannon is not in the grounding area, is near by, hence the name. This is a six foot cannon with a large amount of taper to its barrel and its trunions near the center.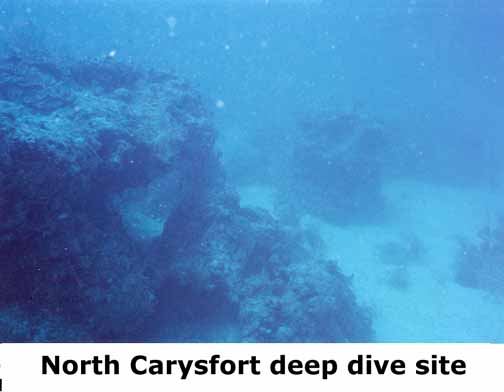 Not exactly a cultural resource but is a great dive site ranging from 50 to 70 feet of depth. It differs from the normal buoyed commercial dive site as there are overhangs and swim through areas.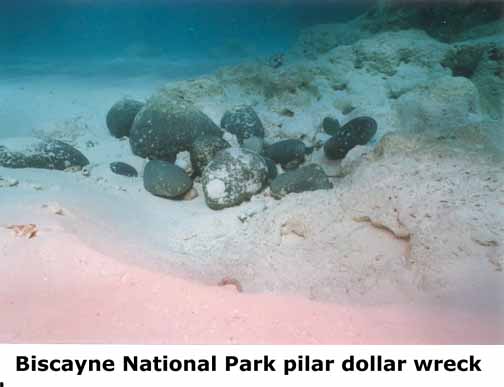 Another site in the Biscayne National Park, however very close to the Florida Keys National Marine Sanctuary boundary. This site was salvaged extensively in the early years, however these ballast stones were uncovered naturally by high waves in November 1996.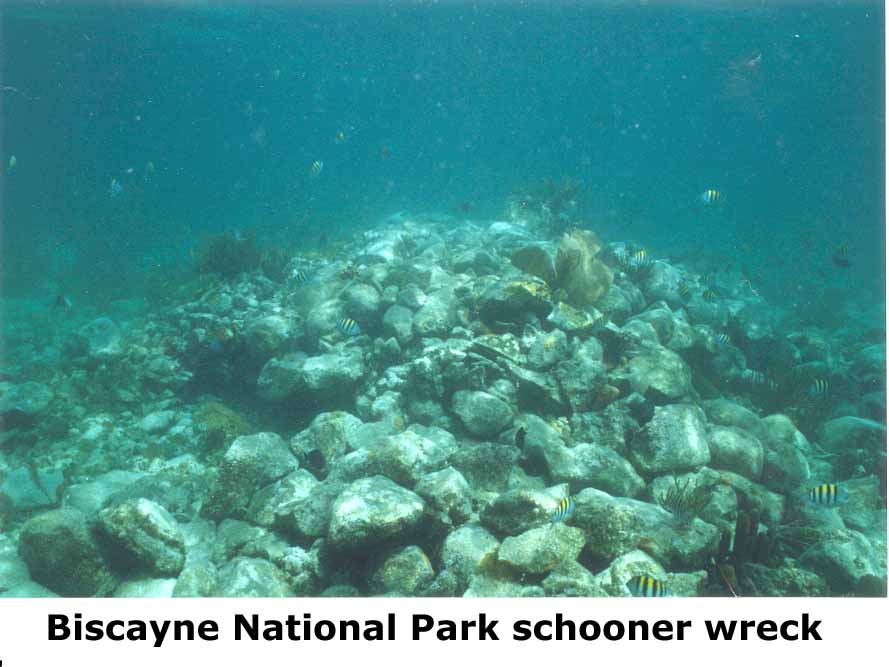 A better than normal view of a wreck site of an early ship. Many are buried under many feet of sand, however their appearances change from storm to storm.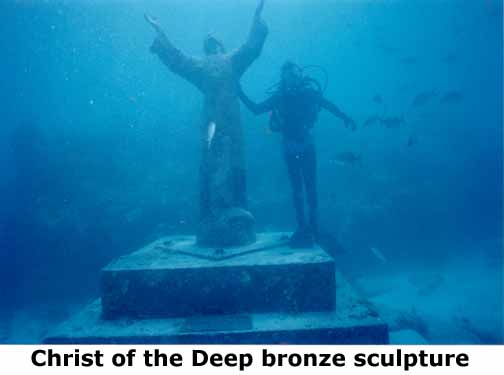 To show there is more than ship wreck cultural resources near the reef. This 13.5 foot overall bronze sculpture was cast in Italy in 1961, toured the U. S. and stood in the Key Largo Dry Rocks area in 1965.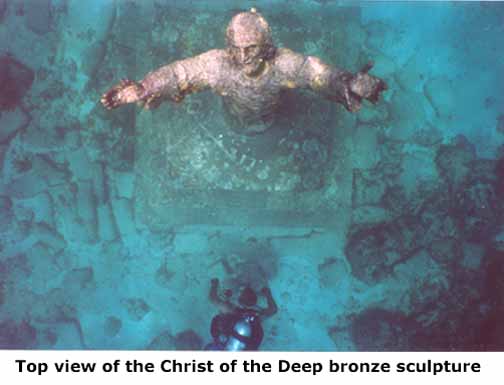 The water is about 25 feet deep in the area, therefore can be snorkeled. For more about this underwater stature click HERE and use "back" to return.
** All photos were provided by various volunteers and contributors of the Florida Keys National Marine Sanctuary.
Return to the Coral Reef page
or
Return to Natural History Room