One of the prominent Upper Keys that never became a settlement is Lignumvitae Key. Most likely the reason is that the railroad or the highway never traversed its limits. This was almost not true when, in 1967, the owners applied for a permit to construct a causeway from the US 1 highway.

Lignumvitae Key appears on a 1760 Spanish chart as Cayo de la Leña. This is roughly the English equivalent to log, timber or firewood. In 1763, the British had their turn and named it Jenkinson Island after the lord of the Admiralty, Charles Jenkinson. It is generally assumed that it acquired its present name due to the quantity of the lignumvitae trees found on the island, even though we have not agreed whether it is spelled as one or two words. It is one of the highest points in the Keys (over five meters) and one of the more beautiful. One indeed steps back in time walking on the modern prepared footpaths. Yet, its early history remains an enigma.

There is even the story of how Columbus took the venereal disease syphilis back to Europe and the lignumvitae tree was taken back to prepare a brew to cure the disease. It is said that if prepared correctly, it will arrest the symptoms for a short time, but is not a cure.


The serious student of Lignumvitae Key must consult the Cornell University thesis of Dr. Peter Jutro, dated August 1975. The following are my simple accounts of research of the "Wood of Life" Key.

First of the tree. The guaiacum sanctum is native to South Florida and is heavier than water having a specific gravity of 1.39. The leaves are opposite compound pinnate having 3 to 4 pairs of small leaflets. It usually flowers in March - April producing star-like blue flowers with five petals. The green fruit is 5-lobed capsules that change to yellow and later split open to reveal red seeds. It is also known as holy wood, palo santo and greenheart. The wood is highly valued for its strength and durability. One use was for the propeller shaft bearings in submarines. It is the national flower of Jamaica and the national tree of the Bahamas.

One of the first surviving written accounts of man's presence on Lignumvitae Key is recorded in William Hackley's Diary written while he traveled throughout the Keys. Hackley was a Key West attorney. On Thursday, February 24, 1831 he records his arrival on Indian Key. After describing other incidents, his Friday, February 25 diary entry is as follows: ". . . After breakfast went ashore on Lignumvitae Key where Capt. Rooke has built a house for the purpose of obtaining preemption right. It is about 3 miles from Indian Key and is about 3 miles in circumference and is heavily timbered and a fine soil. In one place when a well was dug a quantity of stiff red clay was found. A quantity of Lignum Vitae grows on the key from whence it derives its name. To read this portion of his 1831 diary Please click HERE.

Two days of the diary are follows: "Saturday, Feb. 26th. Rose just before daylight and after an early breakfast went up to Lignumvitae Key. The men went to work thatching the house and I took a walk thro the woods. I found the land very good and not difficult to be cleared. The house is made of posts set in the ground and poles nailed across, and palmetto leaves tied to them, which forms a tight roof and lasts about five years. Got aboard about dark.

"Sunday, Feb. 27th. Rose about daybreak and after breakfast went to Lignum Vitae Key to look at some traps set last night for raccoons. There were none and we hunted the woods with the same success. Got on board at 1/2 past 12, read Roccus and remained on board all evening as I dislike Indian Key so much that unless I have business, I am determined not to go ashore."

Hackley's experience was taking place at the same time that Jacob Housman was making his move to upgrade Indian Key. Since Captain Rooke was digging a well, it can be reasonably assumed that there was not an adequate supply of fresh water in 1831. John Lee Williams wrote in his 1839 edition of the Territory of Florida: "It contains more good land than any other island in this part of the group: part of it is under cultivation, the rest is covered with hard timber." The cultivator could have been Dr. Henry Perrine.

Dr. J. B. Holden wrote on page 363 of the 1871 Harper's New Monthly Magazine while traveling through the Florida Keys: "Among the residents was an old hulk, who had been driven ashore here years ago, and now lived on Lignum-vitae Key, near by, where he raised a few water-melons, and so kept hunger away from his door, selling produce to dealers in Key West. Old in the service of the sea, Captain Cole is yet hale and hearty, a temperate man, and well worth the acquaintance of anyone who should happen to drift that way. He is Norwegian by birth, and a very intelligent man; having no friends, he prefers to live here alone, almost a hermit's life."

In 1885, Henry Perrine Jr. wrote in his, A True Story of Some Eventful Years in Grandpa's Life, of his return visit to the Keys in 1876: "We did not remain long as the captain (Bethel) wanted me to go over to Lignumvitae Key, (the island where captain Houseman formerly had very extensive improvements) to show me his watermelon patch and his pineapples. The only trace of Houseman's former occupancy was a portion of the wall and chimney of a kitchen." So, perhaps Housman was the cultivator. Today, there are still rock remains a short distance from the Matheson house that could be the referenced place of occupancy.

The foregoing is about all in regard to written accounts of early occupants; however, there were earlier occupants. On the south edge, is evidence of a burial site and kitchen midden of early Indians. Stories cite Indians over seven feet in height, and buccaneers and pirates inhabiting the island. The island is now a historic district for the National Register of Historic Places.

The significant coral rock walls on the western end of the island are another enigma. They extend for a total length of about 3,000 feet. Legend has it that they were built by the early Spanish; yet, early writings do not mention the walls. True historical research remains to be done to verify this, but a rock wall of this magnitude says something for an island that historically has had only one resident at a time. The wall is more typical of the Bahamas than Spain. The story is not complete in regard to this magnificent island.

One can pick up the written ownership trail when William H. Bethel purchased the island from the state in 1881. Then we find a William A. Bethel and his wife Mary Eliza selling the island to Thomas A. and Edward A. Hine for: $2,000 on December 20, 1888. We know from other documents that the Hine brothers also owned other islands and were planting coconuts. Coconuts abound on Lignumvitae and many assume that the Hine brothers planted them. There is no record that this was a successful venture. Coconuts were plentiful on Long Key and the railroad was built through the middle of the grove.

Ownership was again transferred in 1919 to the Biscayne Chemical Company, whose president was William John Matheson. The Wisconsin-born Matheson had accumulated considerable wealth developing chemical dyes. Moving to southern Florida, the Matheson family had extensive holdings on the mainland and in the Upper Keys. It was he who was responsible for most of the visible structures seen today.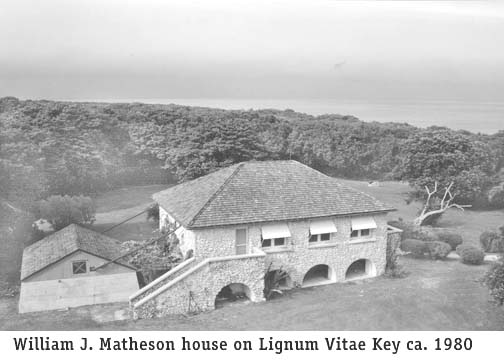 Apparently serious about his new acquisition, he employed a full-time manager for whom he constructed the existing coral rock home.

The estate was transferred to his family when William J. Matheson died in 1930. His son, Hugh, inherited the island.

The Great Hurricane of 1935 badly damaged the coral rock house, but Hugh fully rebuilt the house with some modernizing. W. R. Sweeting, brother of Eddie Sweeting of Islamorada was the caretaker, survived and continued his position. The Redland District News citizen's listing of 1938 listed W. R. Sweeting as the caretaker of Lignumvitae Key.

Hugh Matheson introduced a wide variety of exotic plants and animals. The story goes that he brought in Mexican burros, Angora goats, peacocks and 60 Galapagos tortoises. Hugh and Charles Brookfield moved six cannons recovered from the British warship HMS Winchester as outside decorations. (The Winchester ran aground on Carysfort Reef in 1665. About one third of its original crew of 350 had died of disease before and all but one of the remaining were eventually saved by another ship.)
The Hugh Matheson family held onto the island until it was finally sold to three Miamians in 1953. The following year the new owners employed Charlotte and Russell Niedhauk as caretakers of the island.

Russ Niedhauk was born in Pennsylvania Dutch country. He apprenticed to a master mechanic at a steel mill where he learned skills that served him the remainder of his life. He moved to Fort Lauderdale, Florida in 1928 and sailed a yacht for the Baldwin Locomotive Works. He married Charlotte Arpin, of French origin. Her father, J. P. Arpin, had been a reclamation and drainage engineer for Governor Broward.
Together, they had served as caretakers of Elliott Key in 1934 and 1935. The Niedhauks rode out the 1935 hurricane on Elliott Key at ages 31 and 24 respectively. Later, Charlotte wrote her well-known book, "Charlotte's Story, " of this experience. As the new caretakers of Lignumvitae Key, the Niedhauks took care of both islands as if they were their own.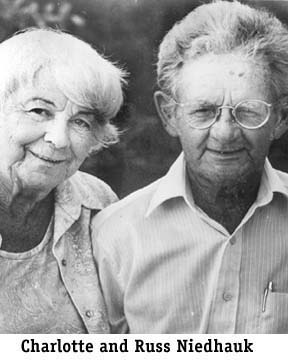 In the mid-1960s development and causeways were proposed for both Indian and Lignumvitae Keys. Obviously, neither was developed. Local citizens protested the proposals and both islands ended up as Florida State Parks. One difference was, however, Lignumvitae had resident managers loved by all the locals. After the state assumed ownership in 1970, a misunderstanding ensued between the managers and the Tallahassee bureaucrats. The state won and the Niedhauks moved onto their houseboat in 1978.
Russ continued as a temporary state employee keeping everything shipshape. Charlotte died in 1983 and Russ married a mutual friend, Dorothy Bruderhausen.
Access to Lignumvitae Key is by private, rental, or tour boat.
-----End-----