Permanent Upper Keys settlements are difficult to define, as it is arbitrary as to what size group constitutes a "settlement." Homestead, census, post office, and artifact data are good guidelines. Platting patented homestead descriptions on detailed maps offer some degree of density. However remember, families could have been in a place long before their homesteads were officially recorded, or never homesteaded at all. The approval process for a post office indicates some expectation of density. The 1870 Census is the earliest Key-by-Key list of settlers that I have and serves as a reference. Within the parenthesis are the occupation and age in the 1870 U.S. census. If other than the 1870 census is used for reference, the date will be included. Monroe and Dade County censuses before 1850 do not show age and occupation. Our first census was 1830 and the 1890 census was destroyed.

Before the 1820s the Florida Keys were without permanent white settlements. The first white people to settle in the Keys in any number were of the maritime industry from the Bahamas and the New England states. In large part they settled in Key West after Florida became a U.S. Territory in 1821. They were involved in wrecking (salvaging), fishing, sponging and turtling industries. Later, Bahamian farmers, who knew coral-island farming techniques, brought proven plants/seeds and farmed successfully in the Upper Keys.

The Bahamians were coming to the Upper Keys as early as the late 1700s and probably before. During England's ownership of Florida (1763 - 1783), the governor of East Florida, James Grant, in 1766 requested that a post be built at Key West, as it was a good strategic location for trade and military use. Later, Luis Fatio of Havana wrote the Spanish Governor of East Florida on November 17, 1790: "If a detachment of troops were stationed on the little Keys known as Rodriguez and Tabano [Tavernier] and required to maintain a light at night, it would be a very great benefit to us in preventing all those pirates of New Providence [Nassau] from making use of these ports, where they have now a settlement and corrals for tortoise fishing. . . ." This was probably a temporary camp used by wreckers or other temporary groups.

- INDIAN KEY -

Silas Fletcher came to Indian Key in 1824 to construct a store for the partnership of Snyder and Appleby (1830) of Key Vaca. Silas built a store and a house, operated the store, then purchased it from Snyder and Appleby, and was joined by Joseph Prince (1830). Prince in turn built his own store later. Four years later, Silas sold his interests to Thomas Gibson (1830).

To the north of Indian Key in April 1826, Captain John Whalton (1830) and six crewmen anchored the 220-ton, two-lantern, schooner-rigged lightship named "Caesar" inside the Carysfort Reef. His wife Felicia and four children lived in Key West, but visited aboard ship occasionally. Supplies were a problem for the Captain and crew, so they had a small vegetable and fruit garden, and a fresh water source somewhere on north Key Largo. This is referred to as "Whalton's Farm," but I suggest that this does not qualify as a settlement. Captain Whalton was shot and killed by Indians in 1837, two years after the Second Seminole War broke out in 1835. His body and family were taken to Indian Key and after a burial, to Key West. Descendants still live in the Keys.

In July 1831, Jacob Housman (1840), from Staten Island, New York, purchased the Indian Key property from Thomas Gibson. Housman proceeded to build a hotel, warehouses, wharves, repair shops and a large house for himself. A post office was opened in 1834. Even a bowling alley of some type existed. Written descriptions of the island came from well known personalities like John James Audubon, Dr. Henry Perrine, Dr. B. B. Strobel, William Hackley and other visitors.

The absence of deep water access for shipping hindered development throughout the Upper Keys. Families and groups of families formed on the oceanfronts along Hawk Channel - their supply, communication and lifeline. Other reasons were the cool ocean breeze and fewer mosquitoes (also less mosquito borne diseases).

Of all, Indian Key probably had the deepest harbor. There even existed a promotional map indicating streets - a townsite.

An attack by Indians in 1840 destroyed Housman's control and most of the island's structures. Almost immediately, the navy took the island for use as its headquarters for the remainder of the Indian War. Considerable damage to the islands structures occurred the second time of that decade by the Hurricane of 1846.

George Meade negotiated a 15 month lease for the island in 1851 for the construction of the Carysfort lighthouse which was completed in 1852. Afterwards it remained a center for farming, small military operations, the site to preassemble the Alligator lighthouse from 1870 to 1873, and then as a small shipyard. Activity gradually diminished until the building of the railroad. Henry Flagler used the wharf and drilled unsuccessfully for fresh water. In June 1909, Flagler purchased the Key from the state, but gave it to one Elizabeth Smith. The 1935 Hurricane provided the coup-de-grace. It is presently a state archaeological site and park.

- MATECUMBE -

In 1838, Richard H. Russell (1850, farmer, 35) and family arrived on Key Vaca [Marathon]. In the mid-1850s he and his wife Mary Ann [Roberts] moved to Upper Matecumbe Key. On the northeast end of the Key, Mary Ann homesteaded 162.58 acres in 1882 and Richard homesteaded 31.09 acres in 1885. The Russells, with their daughter, three sons, granddaughter and three grandsons, eventually became the largest family in the Upper Keys. The cluster of homes and family cemetery has been referred to as "Russellville," or the "east-end."

In 1870, Richard Pinder (farmer, 48), wife Sarah and their four children farmed Indian Key and surrounding islands. His oldest son, Cephas, his wife Charlotte and two children, plus two other Pinder families were also farmers residing on Indian Key. Later Richard and sons, Cephas (farmer, 27) and Adolphus (farmer, 22), moved to Upper Matecumbe Key and homesteaded the center portion of the island. Richard homesteaded 130.96 acres in 1883, Cephas 148.9 acres in 1882 and 1892, and Adolphus 149.92 acres in 1883.

This cluster of houses was known by some as "Pinderville" or as "The Hole." "The Hole" suggests that they were in the middle of the island between the Russells and the Parkers.

State records indicate that in 1907, William H. Parker (1910, farmer, 55) received a land patent for 171.41 acres at the southwest end of the island. This area was known as Parkerville or "The West End." Russellville, Pinderville, and the later Parkerville, comprised what was known in earlier days as "Matecumbe." A note on the names Russellville and Parkerville. These names may have been given by journalists as I have spoken with some family members who had never heard of these names.

The Jacksonville, Tampa and Key West railroad received 53.95 acres in 1895, accounting for all of the 848.61 acres of Upper Matecumbe Key.

The coming of the railroad brought about the name Islamorada with a depot, post office and sub-division bearing that name. Other permanent families followed such as the Cothrons, Woods, Careys, Sweetings, Perdues and Butters to name a few. Islamorada grew to incorporate taking islands on both sides.

- PLANTER -

The exact year is not known, but sometime before 1880, the settlement of Planter began under the direction of patriarch "Mister Sam" Johnson (1885). The family is clearly identified in the 1880 census. There are recorded land titles for Samuel Johnson in 1882 and 1883. Planter prospered under Mister Sam and his sons Sam Jr., Charley, John, Raymond, Tom and Payson, and daughters Caroline and Mary. By 1891 there was a post office, store, school, church and there were five farms located in what is now the Harry Harris Park area. Planter was the second Monroe County community to have a post office, store, school and organized church. A post office is significant in establishing a recorded community name.

Early travelers often wrote of their visits to Planter. The Miami Metropolis newspaper even had a column titled "Planter Pointers." It was also clearly located on William Krome's 1905 survey for the railroad. The Upper Keys experienced a pineapple blight in 1909, the same year that the hurricane of 1909 damaged Planter badly. Most believe that these were the reasons for the Planter post office to close in 1910. Many of its residents moved the few miles to Tavernier. Railroad service had started through Tavernier in 1908 and this could also have contributed. The Planter community center was located on the ocean shore where the Ocean Pointe condominium club house and docks are today.

To visit, turn from U.S. 1 toward the ocean on Burton Drive (Mile Marker 92.5), drive to where the rocks block the road, and walk the right-of-way to the ocean. To your right (south) would have been the community's center. All that remains of Planter are the few date palms you pass while walking.

The presence of date palms in the Upper Keys is a good indicator of an old homestead site. Of course, a concrete water cistern is the best and both are a sure thing. Two water cisterns remain north of Harry Harris Park. These are about one half-mile north of Planter community center.

- LOWESPORT -

The 1870 census of Key Largo listed Amos Lowe (31, farmer), Ada Lowe and three children. Legend has it that a schooner with Amos Lowe of Key West aboard sought storm protection in the Tavernier harbor on the southern tip of Key Largo. On his next voyage, Amos planted some seeds that flourished. Later trips convinced him this fertile area would be a good homesite. He and his bride, Ada Elizabeth Curry, moved there, homesteaded, built their home and farmed 146 acres on lower Key Largo. The Amos Lowe land grant is dated 1880 and was the first homestead land grant on that island. To some, this area was known as "Lowesport," and is still shown as Point Lowe on some charts. Often it was included as Planter since the post office was at Planter.

Just to the north of the Lowe homestead, Robert Albury (farmer, 49) and Patience Albury and five children, farmed in the same general area and received a land grant in 1882. They made their homes in the area called "The Point," but in the 1920s moved a little southward to be nearer the railroad depot. The railroad replaced Hawk Channel as the lifeline. All of this area is now Tavernier.

- NEWPORT -

Until recently the old Newport area oceanside at mile marker 101.4 had three cisterns, a large stone-walled area and a large beehive community oven. Properties in this area were homesteaded by William Sawyer, Thomas Russell, Thomas Johnson and Richard Roberts between 1882 and 1888.

Earlier, the 1870 census reveals that Azariah (farmer, 38) and Sarah Pinder and their six children, the oldest 13, were on Key Largo. Sarah Pinder and children are with the above families in the 1880 census. These families are in the area that was then and is now called "Newport" by some. Commodore Ralph Munroe wrote of sailing the Egret to Newport on Key Largo and chartering the schooner Newport in 1886. See The Commodore's Story, page 163. The community's center area is now a rock quarry behind Newport Village at Mile Marker 101.4. None of these early homesteading families remained in the area which has been absorbed into the community of Key Largo.

- BASIN HILLS -

In 1885, William Dunham Albury (1885, farmer, 31) and his wife Ada Elizabeth of the Bahamas arrived on Key Largo from Key West with their three-week old son William Beauregard Albury. I have unsubstantiated notes that say that they first farmed in the "Basin Hills" area before moving to the railroad community of Rock Harbor. A conch-style hip roof house, constructed by Beauregard in 1913, still stands in the highway median at Mile Marker 98.5 of highway U.S.-1.

Basin Hills remains somewhat a mystery. Whalton's Farm could have been the forerunner of this area. Land deeds in the area reveal Sylvanus Pinder bought (when others homesteaded) 120 acres in 1880 and then another 160 acres in 1883. Adjacent to Pinder and to his north, John L. McDermott homesteaded 137.9 acres in 1883 and to his west Thomas and Charles Russell homesteaded 80 acres that same year. In 1884, Philip J. Baker (1880, farmer, 44) homesteaded 40 acres to his south. These were all on the ocean side of County Road 905 near the Monroe County transfer station. Basin Hills was either there, or very near. I have postcards addressed to Mary Sawyer (none, 8) at Basin Hills, but these featured railroad photographs, therefore are in the 1900s.

The History of Methodism supports that these were early settlements. In 1881, two itinerant Key West Methodist ministers, Sonelian and Giddens, traveled the Keys by schooner. Later, in 1887, the Florida Conference, South, assigned the Reverend J. M. Sweat to be pastor of the Key Largo Circuit, which contained four "organized societies."

Each month, the Rev. Sweat was to preach at Basin Hills on the first Sunday, Newport on the second Sunday, Planter on the third Sunday and Matecumbia on the fourth Sunday.

I conclude that at least these four family groups along with Indian Key qualify as early " Upper Keys settlements." They all shared the common problem of transportation. For them every thing had to be shipped in and out by water. See photo.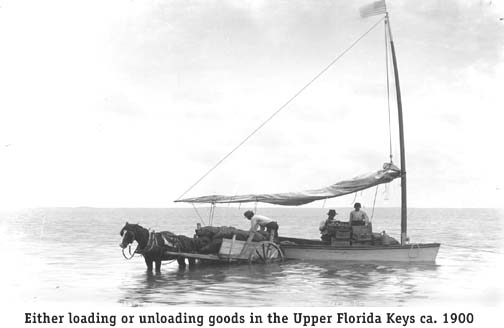 There is additional data concerning possible early settlements in this area. The great-granddaughter of Benjamin A. Russell (1885, farmer, 44) wrote, "Benjamin was a very religious, hardworking, stern man. Benjamin and his family sailed from Key West to upper Key Largo to what was then called "Red Bird City." There on the ocean he built a sturdy two-story home." It remains to be proven whether Basin Hills and Red Bird City were the same or separate early communities.
Postal records show a post office in the mile marker 107 area known as "Aiken" from 1895 to 1900. Its postmaster was Alfred Baker (1885, none, 12). Could Aiken have been previously Basin Hills, Red Bird City, or a separate settlement? History has yet to reveal the answer.
There are a few references to still another late 1800s settlement at "High Mangrove Point", which is a point of land on the ocean side just south of present-day Ocean Reef. There are no specific facts concerning this settlement, as there are about Basin Hills, which was a little farther south.
I cannot leave early communities without mentioning the oceanside community of Pearl City on Plantation Key. Little is written of Pearl City, but it exists in conversation with early Plantation Key residents as the Alburys, Pinders and Lowes. The name is equally evasive. Was the location simply "a real pearl," named for the beautiful-pearly Queen Conchs, the conch pearl, or something else? However named, the appellation existed and has all but faded from use, except the subdivision that still bears the name Pearl City.
In regard to these first settlements today: Indian Key is a state park, Basin Hills and Red Bird City are somewhere in the state owned conservation area on Monroe County Road 905, Aiken is probably a county park oceanside of mile marker 106, Newport is the area that includes the Tradewinds Shopping area, Planter is the Ocean Pointe/Harry Harris Park area, Lowesport is Tavernier and Matecumbe is Islamorada.
I close with a real mystery. A National Archives letter from Lt. Commander C. R. P Rogers to Lt. John Rogers, Indian Key, dated June 22, 1841: "At daylight we were again underway and at 10:30 arrived at the old settlement of Tuskino Hadgo on Key Largo; here I sent out scouting parties, and found fresh water of poor quality, but no recent signs of Indians. This place is about 22 miles from Indian Key." This would be somewhere in the John Pennekamp Park area or El Radabob Key. Its name suggests a Seminole settlement, reminding us that the Native Americans had settlements long before the ones discussed here.
-----End-----