Welcome to the Artist's Room of the Cultural Museum.
Painter/Sculptor Mario Sanchez
By Jerry Wilkinson
Mario Sanchez is a native of Key West and was born in 1908, the son of a cigar maker. After graduating from business school he held many jobs. As a self-taught artist he began carving and painting in 1930. He continued to work until 1970 when he devoted full time to his art work.
Through Mario's art we are provided an insight into people's lives who otherwise never would have became a part of history. Their lives and tangible associations such as old wooden buildings and street scenes are alive today for us to see.
We thank the Key West Art and Historical Society for their loan of many pieces of art for the East Martello Tower exhibits. Telephone (305) 296-3913 for information of the museum at 3501 South Roosevelt Blvd., Key West, FL. The entrance is shown below.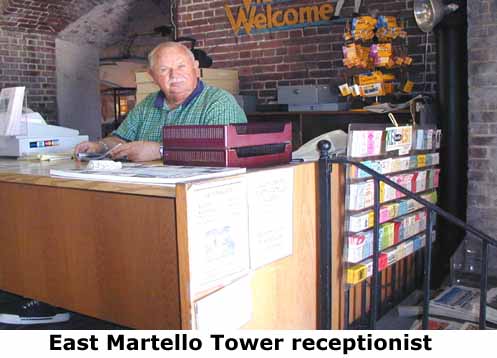 Below is Mario at his outdoor studio.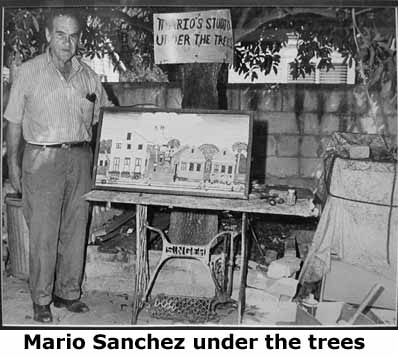 Mario does his bas relief wood sculpture with three chisels and his painting with dime store brushes. He does not study art as it might effect his style.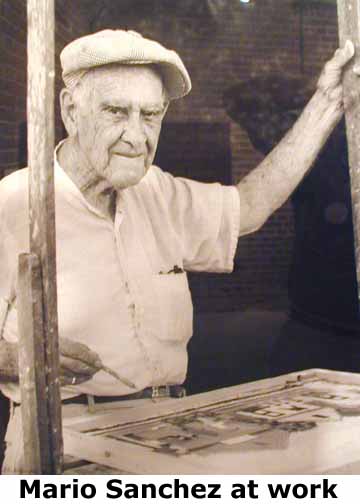 The Florida East Coast Railway was the frequent subject of visual artists after its arrival in Key West on December 22, 1912. This bas relief painted sculpture depicted below is of the arrival of Henry Morrison Flagler on that day.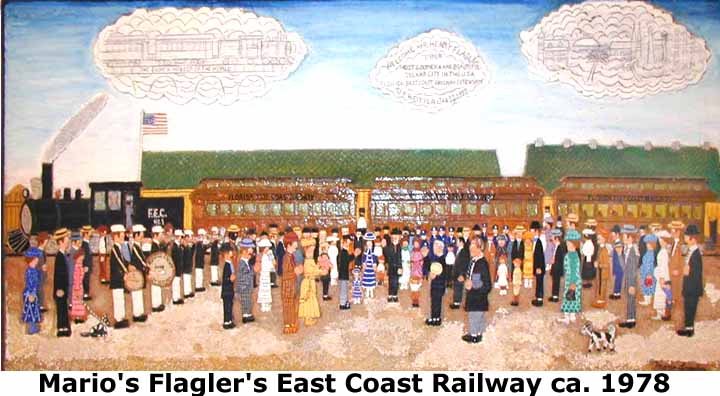 Outdoor street scenes such as below are a favorite theme for Mario.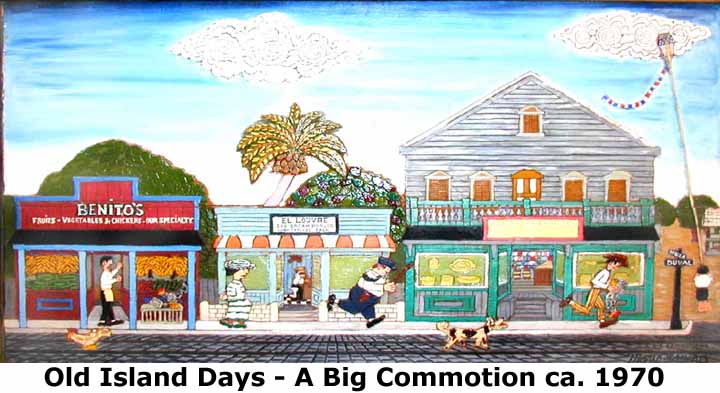 The Cuban Club (below center) was a local dining and dance club. The original club burned and it was rebuilt.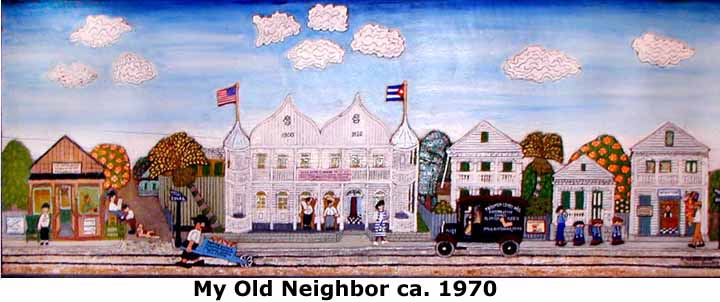 This 1878 religious building of the Sisters of the Hold Names of Jesus and Mary was torn down in 1968.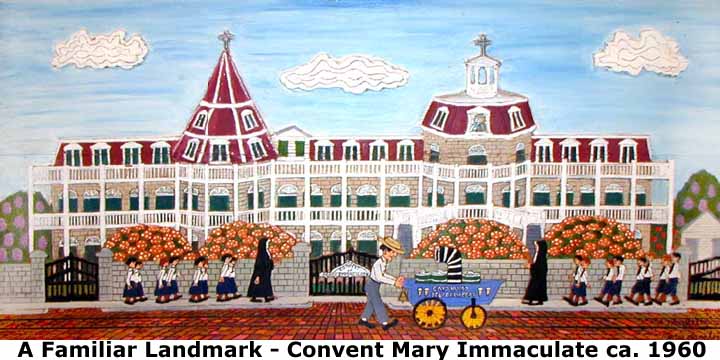 Below, Hemingway is in the center (twice as large as the other people) and vignettes are in the clouds.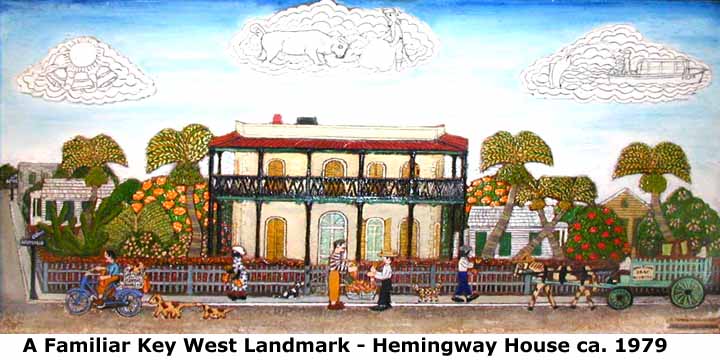 Below is a view of one of Mario's earlier works. Here he shows the street peddler versus the established store. Note the falling coconut at center right.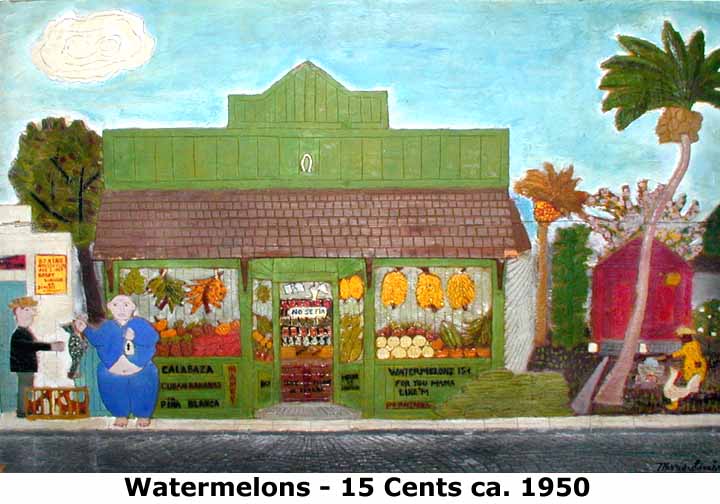 Below are the Mallory docks as Mario perceived them to be in the early 1900s.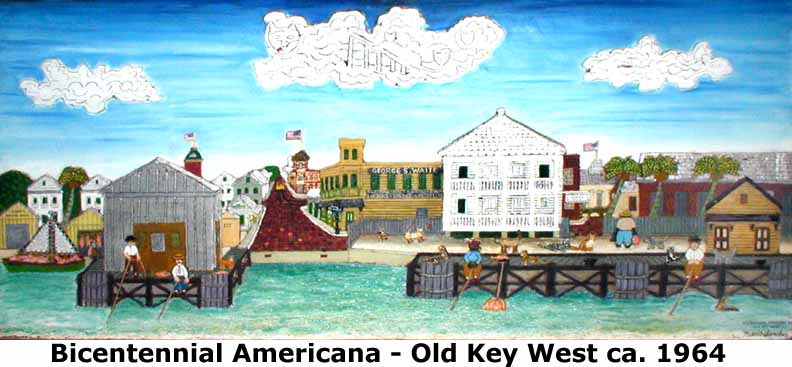 Cigar making - the industry that the Sanchez family knew best.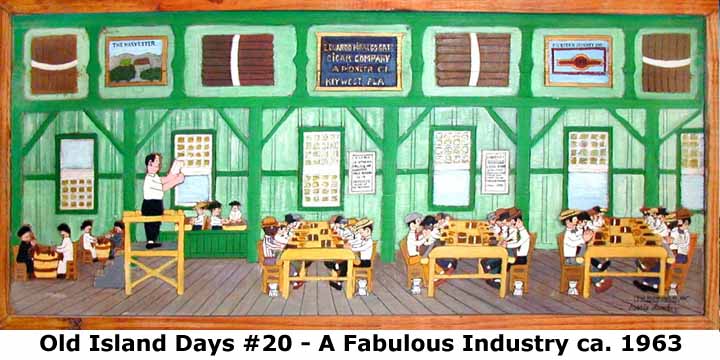 When and where it began.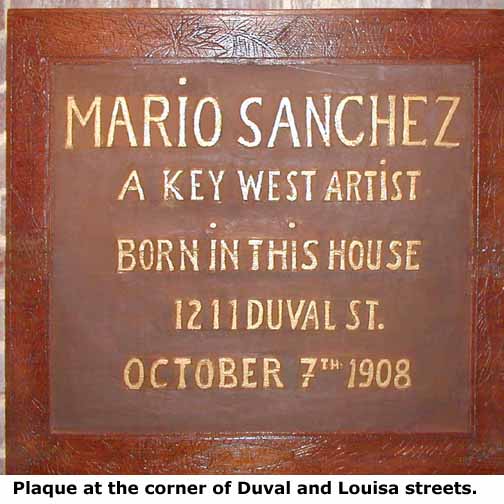 October 7, 2003. Mario Sanchez celebrated his 95th birthday at Key West. The Key West Museum of Art and History, and the Custom House offered free admission to view their collection of his works. Happy Birthday, Mario.
Mario passed away at his home in Key West Thursday, April 28, 2005 at age 96.