- HISTORY OF THE UPPER KEYS -
- The Ocean Reef Club

By Jerry Wilkinson
Compilation date = November 2010
Moving northeast to the oceanside of north Key Largo, Floride (Flo) Robinson provided first-hand knowledge of the property, later to become known as Ocean Reef. Flo, with her husband Seymour and children Diane, David and Carol, were caretakers of the Despatch Creek Fishing Camp in 1942. The house had four cabins and some docks, all of which were accessible by a rough, rutted and muddy road continuing from the Angler's Club entrance. The Robinsons were well acquainted with Dave and Ron Miller of the Angler's Club. They frequently purchased vegetables from Mr. Lowe's road-side stand just south of the Angler's Club. Fresh water that ran off the roof was caught in barrels. Cooking and light was provided by kerosene. They bathed in Dispatch Creek, except during their family visits and shopping trips to Miami.
The Robinson's moved to Key West when Diane was old enough to attend school and the closest school being about 30 miles away in Tavernier - a 60-mile a day trip. It is believed their house was improved, with a water tower added, and the home eventually became the fish camp owned by Morris Baker. Today, this is the Ocean Reef Club, one of the wealthiest property developments in America.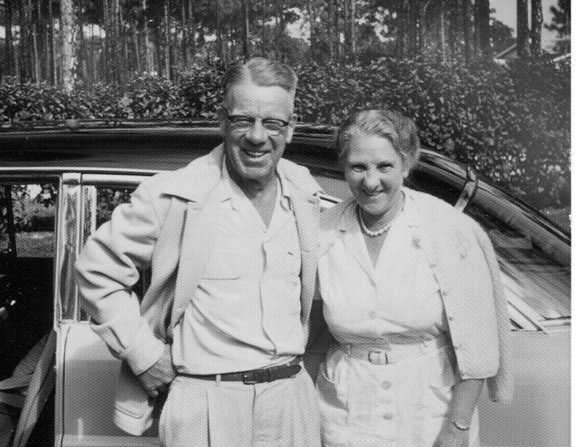 With specific regard to Ocean Reef, Morris and Alice Baker of Minneapolis, Minnesota wanted to buy the Angler's Club. See photo to the right. It was not for sale at the time, so they purchased sight-unseen 40 acres of property to its northeast at the mouth of Despatch Creek - The Despatch Creek Fishing Camp. By the end of the 50s, Morris had increased his stake to about 1,300 acres.

For example, 80 acres were originally owned by Gen. Ivor Thord-Gray who had died and the Irvine family of St. Paul then owned it. Thord-Gray was born in Stockholm, Sweden in 1778, came to the U.S. in 1922, I believe he moved to Florida in 1933 and served as as Major General for the Florida Militia in 1935 as well as on the personal staff of the governor. But, who was this man? He is known world wide, but not in Florida othe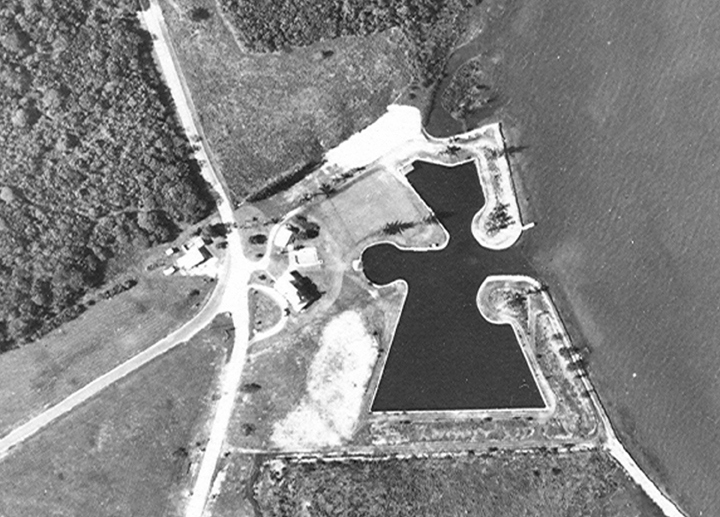 r than the street named Grayvik Drive (also Grayvik Harbor) at Ocean Reef. The Swedish that I have corresponded with say "Gray" means 'the colour and the General's name' and "vik" means 'bay.' His 1920s house in Connecticut was named 'Gray Court.' See 1958 aerial of Gravik Harbor at Ocean Reef to the rignt.
According to a letter written by Mrs. Alice Baker, Morris Baker's wife, the fishing camp was still much as described by Flo Robinson when Mr. Baker made his first visit in 1946. The Bakers, as is apparent today, had vision. Channels were dredged, docks built, land filled, roads made and finally an inn, with coffee shop, gas station and water tower were added. The airport, with a landing strip of 2,000 feet was dedicated on May 18-20, 1956. Ocean Reef was now accessible by land, sea and air.
Morris Baker passed away in 1959 and progress continued, with the construction of many recreational facilities, villas, golf courses, country clubs and homes under sons, William and Roger Baker. The Miami Herald announced 300 home sites offered for sale in October 1959. A model home by Edward Rempe of Coral Gables was near completion at a sale price of $25,000. During the same period, the concept of Yachtel''s were introduced. Small prefabed luxury cottages were trucked in and installed along selected waterways where boat owners could have their boats and live in small individual rented residences. It also constructed its own dedicated employee housing, a subject of much discussion today.
The Monroe County Commission approved another Ocean Reef plat in July 1963. Ownership was transferred to Harper Sibley Jr. and his partner Morris Burke in 1969 and it became officially The Ocean Reef Club. Expansion was the game with a full time medical facility the Ocean Reef Chapel and other amenities. The constant additional of the most modern facilities required equally modern financial services which was the American Financial Corporation.
Visionaries among the local members began acquisition talks in 1985 but the Club was not for sale. A dedicated and tenacious Acquisition Committed succeeded on its quest on March 1, 1993 and American Finance chairman Carl Linder finalized the sale to the individual property owners association - ORCA.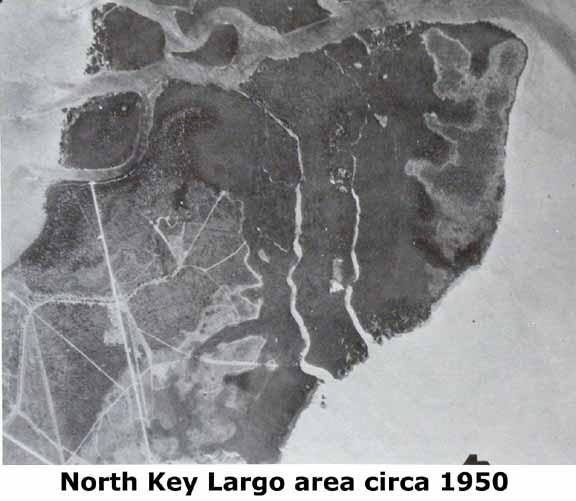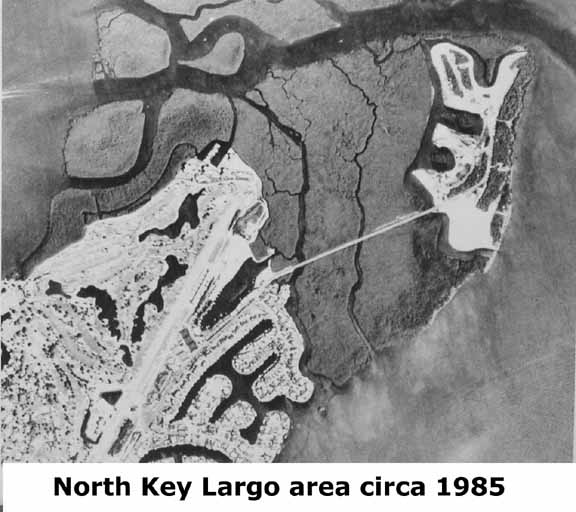 The above aerial photos depicts the concentrated and rapid growth of the Ocean Reef Club area of North Key Largo half a century. Ocean Reef also operates an excellent museum of its role in the Keys.
North Key Largo has been a part of many dreams. In 1929, it was to be the southern terminus of a causeway linking the islands to the north to Miami Beach. The principal island is Elliott Key, however, there are others such as Old Rhodes Key, Sands Key, Boca Chita, Ragged Keys and Soldier Key. (Henry Flagler developed Soldier Key as an adjunct to the Royal Palm Hotel on the Miami River. All of these linking islands were called "Islandia" under a Dade County charter. Islandia actually was not a part of Key Largo, but and it was a significant "but." If Islandia passed State's muster, its southern route would pass directly through Ocean Reef - from the very top to the very bottom. It did not happen, but below is short piece re Islandia.