The research of Harry Harris proved very difficult. In interviewing local residents born and raised in the Upper Keys, he was known by all, but it appeared that he never spoke of his family, other than his sister, Mabel, and a brother known as "Peanuts." Over two decades, I had amassed about four dozen newspaper clippings, but most were either some celebration/event, or at the time of his indictment for bribery in 1975. I did have one postcard of his sister's restaurant, "Mabels Place", postmarked 1934 and mailed to "J.L. Harris, St. Louis, Ill. Using my Internet subscription to GenealogyBank.com I did find his enlistment in the Army and several other civil documents, but no family.
At one of my presentations to the Daughters of the American Revolution (DAR) I met and asked Orva Gaile Clubb, a professional Genealogist now residing at Big Pine Key for assistance. What I had been years looking for, she found in less than a week and is well presented, so I quote a portion:
"Harry Harris was born Lemuel Washington Harris on 24 July 1904 to James L. Harris and Dissie R. Harris, in Flannigan, Hamilton Co., lllinois, where his father and mother resided during the time period that their 2 oldest children were born in 1900. It is believed that they resided there during the entire time period their children were being born. Shortly after the youngest child was born the family moved to Oklahoma. "Harry" appears by his given name, Lemuel W. Harris living with his parents James L. Harris and his mother Dissie R. along with his entire family of siblings residing on a farm in Standford, Galvin Co., Oklahoma. He is listed in the 1910 United States Census as the sixth child of nine brothers and sisters, showing him to be 5 years of age. Interestingly, two other siblings listed on the census are his sister Mabel G., age 7 and her brother Urtis, who is a year and a half old. In 1910 the list of family members is as follows::
James L. Harris age 34: father
Dissie R. Harris age 35: mother
Arthur L. Harris age 15: son
Elmer J. Harris age 12: son
Ewell D. Harris age 10: son
Delmer E. Harris age 9: son
Mabel G. Harris age 7: daughter
Lemuel W. Harris age 5: son
Lyman Harris age 4: son
Riford Harris age 3: son
Urtis Harris age 1: son
"... In 1920 Harry, as a young man of 16 years, sets out leaving Oklahoma with his brothers Elmer and Delmer and migrated back to lllinois where he is found living in a boarding house as a lodger in Ward 1, in the city of Peoria, Ill. He is identified there as Washington Harris, his occupation is noted as a Bell Boy working in a Hotel. His brother Delmer is working in a Drug Store as a Chemist and his other brother Elmer refused to state his occupation!
The U.S. World War II Army Enlistment Records from the years 1938-1946, indicate that Harry L. Harris / born 1904 / a citizen born Illinois was residing in MoCo, Fl. On 1 September 1942 he enlisted. The Enlistment City is shown as Camp Blanding. He was enlisted as a Private in the Army. The Description was as follows: Enlistment for the duration of the War or other emergency, plus six months, subject to the discretion of the President or otherwise according to law. His level of education completed was Grammar School and his Civil Occupation was Hotel and Restaurant Manager. At the time of his enlistment he is Separated without dependents.
Also listed on the 1935 State of Florida Census record Harris' sister Mabel H. McKinney is living in Monroe Co., Florida along with her brother Ernest. On the original copy of the census she is identified as Mabel (middle initial G instead of (H) McKinney. Her occupation is Restaurant Keeper and her brother Erttis now Ernest is listed as a Filling Station Operator. Both are listed as Single.
... In 1935 Harry Leonard Harris is found on printed transcript of the Florida State Census for Monroe Co., Fl. He is listed as 32 years of age: born in Ill. On the original handwritten copy he is shown as Harry Lemuel Harris. His occupation is Truck Driver and he is a Single man."
With the above professional contribution, I feel reasonably confident continuing with the other documentation that I have collected.
Harry Harris and his brother Earnest came from Chicago to the Key Largo area in 1931 to assist his sister Mabel. We know nothing of his assistance to his sister other than he found work with H.M. McKenzie, the owner/builder of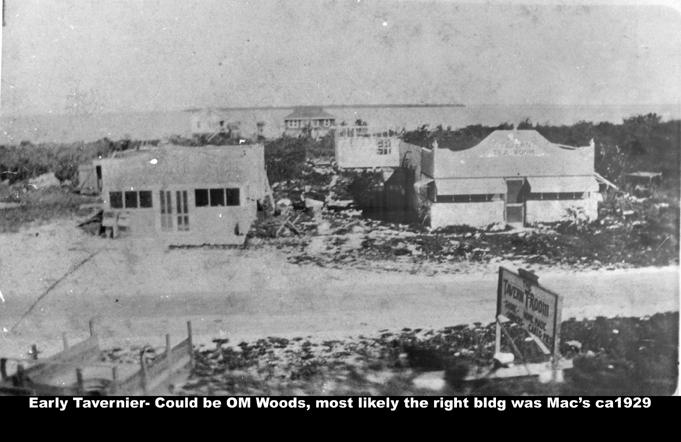 numerous commercial buildings in Tavernier at MM-92. "Mac" as he was known, had quit his Miami job as a school teacher in 1928. With his wife Hazel, he joined some kind of a partnership/venture with O.M. Woods who had acquired a Standard Oil agency. This was the year that the Overseas Highway opened, and I know of no other petroleum agency in the Upper Keys at the time. The railroad passed in front of and/or along side of their holdings. Petroleum storage tanks, an ice storage facility, a small gas station, a grocery store and a sundry store were quickly built. I am not certain how it happened, but O.M. Woods apparently disappeared from the operation and Mac was sole owner - for certain the operator.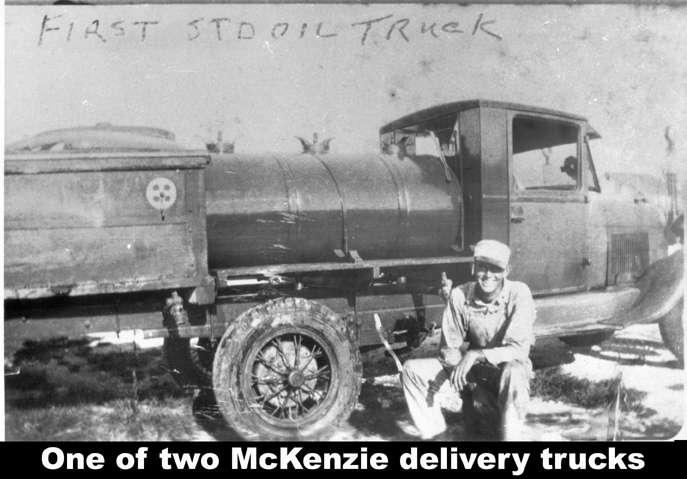 Mac hired Harry Harris as delivery man driving a truck delivering gasoline, kerosene, ice and, little doubt, some groceries when the need arose. Mac had two gasoline delivery trucks, but ice was Harry's specialty. In this capacity, Harris became personally known to almost every local family - permanent and part time residents. Delivering ice required Harris to enter the houses, something usually reserved for intimate friends. The 1935 census listed his occupation as truck driver.
After the 1935 Hurricane, Mac expanded his Tavernier operations to one-stop shopping - something unheard of then. He added a theater, restaurant, hardware store, automotive garage and lumber yard to the existing sundry and grocery stores. Photos show the restaurant as the 'Tavernier Tea Room." "Tea rooms" was a name acquired during Prohibition days indicating that alcoholic beverages might be available. During this period, Harris rented/leased the restaurant from Mac and later changing its name to "Tavernier Cafe."
After a Grand Jury indicted Harry for bribery in 1975 - to be discussed later- many newspaper articles were written about his life at Tavernier. An article "-The Trouble With Harry -" found in The Tropic section of The Miami Herald, March 10, 1974 edition is much longer than others and has considerable quotes. I will simply number the quotes from that article from hereon.
Quote 1: "Harris sold them fish, a decision influenced somewhat by the fact that he got it free from the charter boats that worked out of Tavernier. 'The charter boats used to catch a lot more fish than they could use. I never bought any fish for the restaurant. I just used to send this colored man down to the docks and he'd get the fish they weren't going to keep, clean it up and bring it back here. The price for a dinner, with Key lime pie for dessert was 65 cents.'"
Quote 2: "It was 1939 when Harris got into the bar business, opening what even today is called Harry's Place although he no longer operated it. It was the first liquor license outside of Key West. The supply and demand aspects seemed obvious to Harris, if to no one else, because of the sparse population of the area then. 'When I built the bar, everybody thought I'd go broke. But everybody wanted whiskey. That's where they had to go.'"
In 1940, Harris entered politics getting his feet wet by running for Constable of District 3. He challenged the serving Constable, Cleve Johnson of Rock Harbor. Cleve was the son of William (Willie) Johnson who homesteaded in the Rock Harbor area in 1898. The Democratic First Primary was May 7, 1940, and Harris received 167 votes to Johnson's 223 votes. In 1940, candidates for county district seats were only voted on by the registered voters residing within the specific district and not the entire county. Even though defeated, garnering 42% of the votes was significant for an "outsider".
In the same election, for County Commissioner of District 5, R.W. Craig was forced into the second primary with Robert Thompson of Marathon. In the second primary held on May 25, Craig won 1,772 to Thompson's 1,554. For the Justice of the Peace, C. Marvin Thompson won over Doc Lowe.
All the district terms were two years, so Harris continued with his restaurant. It is not known when he quit his job with Mac. Sometime later it is said he purchased the restaurant and used it as his office, but usually sharing it with others. He preferred to stay in the background. He never was the constable.
Both the railroad and the highway were operational, but the highway brought more vehicular traffic to the Keys than the railroad. Much of the traffic involved fishing, and new guides were moving in as competition to the Albury and Lowe families. Sport fishing rapidly competed with commercial fishing as an industry.
According to later newspaper articles written in this time period, Harris and incumbent County Commissioner Craig became embroiled in a heated discussion of the role of the local deputy sheriff officer. In the 1940 election a new county sheriff (Berlin Sawyer) had been elected and wished to replace the Upper Keys Deputy. Commissioner Craig did not what to, and he had hiring and firing powers. Sheriff Sawyer countered by not allowing the deputy to make arrests. Harris told Craig to get rid of the deputy or "I will run against you." Craig did not fire the deputy and the media writes that this incident was how Harris became interested in politics.
The facts of this are not recorded, but what we do know is there was no county administrator at the time, and county commissioners had to do the entire day-to-day duties county wide. Somehow, among themselves, they divided all the major and minor duties within the county; therefore, they not only made policy, they managed every detail large and small. In 1971, they created the position for a County Administrator and staff as it is today.
Regardless whether the previous story is true, in 1942 Harry Harris filed as a Democratic candidate for the Board of County Commissioners, District 5, which then included Marathon. In the First Primary on May 5, 1942, he received 51% percent of the total votes over incumbent R.W. Craig and candidate W.A. Parrish of Marathon - election over! However, before he could take office, he was drafted.
Quote 3: "... The man Harry defeated was an ally of Willie Porter, a powerful Key West politico, who Harris says, controlled the draft board. 'So what happens? The draft board reached out there and put me in the Army.' At 37 years old, however, Harris barely stayed at Camp Blanding, near Jacksonville, long enough to unpack. As soon as he turned 38, he was released. That didn't stop the draft board though. 'When I came home from the Army, before I even got here, there was a card waiting for me, reclassifying me 1-A. They sure didn't want me in politics. I was determined as hell then I wouldn't quit. I went up to Camp Blanding three or four times. Finally, I got a telegram from General Hersey. It said, 'Don't take him back anymore' or words to that effect...."
At this point in the research, I was concerned by Arva's and my Army records showing that he voluntarily enlisted in the Army on September 1, 1942. This could have occurred if he gave up the battle with the draft board and simply enlisted. Besides, he turned 38 on July 24th. All the 1970s newspaper articles indicated Harris served in the Army, one showed the Navy, and returning to Tavernier and serving as the county commissioner. Interviews with local residents also said he returned and served as commissioner. A later political ad showed him serving in an Army antiaircraft unit. [KN 4-16-1964]
The Army is a Federal responsibility and county commissioner was a state responsibility; therefore, perhaps the Governor took some action. From the MoCo Clerk of the Court, I found the following Governor's Executive Order:
"STATE OF FLORIDA
EXECUTIVE DEPARTMENT
TALLAHASSEE WHEREAS, heretofore on to-wit, the 18th day of January, 1943, Harry L. Harris, the regularly elected, qualified and setting Member of the Board of County Commissioners. District No.5, Monroe County, Florida, was by executive order granted leave of absence from the duties of his said office during the term of his active military services by virtue of the provisions of Chapter 20718 and 20883, Act of 1941, and
WHEREAS, on the 26th day of January, 1943, W.A. Parrish was, by executive order, appointed as a substitute or acting member of the Board of County Commissioners, District No. 5, Monroe County, Florida, to perform the duties of the said office during the term of the active military service of the said Harry L. Harris, and
WHEREAS, as appears by evidence produced before me, the said Harry L Harris, was, on the 15th day of March, 1943, released and discharged from active military service and has returned therefrom;
NOW, THEREFORE, I, Spessard L. Holland, as Governor of the State of Florida, do hereby order and direct that the said Harry L. Harris resume the duties of his said office and that the said W.A. Parish be relieved and released therefore....
IN TESTIMONY WHEREOF, I have hereunto set my hand and caused the Great Seal of the State of Florida to be affixed at Tallahassee, the Capital, this 7th day of April, A D 1943.
(SEAL) (ad) Spessard L. Holland
GOVERNOR
BY THE GOVERNOR, ATTEST:
(ad) R. A. Gray
SECRETARY of STATE"
At this point and until proven different, one 'guess' is that he enlisted on September 1, 1942, received some kind of a deferment, came back and was sworn in - usually done in November in those days - obtained Governor Holland's leave of absence, served an abbreviated period in the Army from January 18 to March 15, 1943, was honorably discharged and continued his two-year term as a county commissioner.
As to the Miami Herald article mentioning the age 38, he was born July 24, 1904; therefore, he would have not been 38 until July 1942. My research on the Internet indicates that single men had to serve much older age than 38.
Before leaving the alleged draft board incident, the Key West politico "Willie" Porter was William R. Porter. He had been a three time county commissioner for District 1, Key West, from 1932 to 1938 and, at the time, he was the president of the Florida First National Bank in Key West. There is little doubt that he could have been a powerful politico. I found no records of the MoCo draft board.
Quote 4: "When Harris was first elected to the commission, he was sent there entirely by the people of District 5, the Middle/Upper Keys. That, Harris decided, was morally wrong, and asked his friend and political associate, State Rep. Bernie Papy, to have that changed. 'I said to him and to all of them, I just don't believe in this goddam 'district.' When you go to the courthouse, you represent every sonabitch in Monroe County. They ought to have a say whether you are going to serve them and spend their money.'"
Bernie Papy is a legend of MoCo politics, having won the office of Florida State Representative in 1934. MoCo is one of the smallest of Florida's 67 counties, yet Bernie Papy wielded a big stick. He served until 1962. There is no way of knowing, but I credit his friendship with Papy for much of his political success.
Before leaving the year 1943, Harry Harris married Lena Hazel Hardy of South Carolina on September 18, 1943. Was this his first marriage? The Army Enlistment Record said he was 'separated.' Everett Albury, the Postmaster of Tavernier, 1953 to 1983, recalls he had a wife and a son when he came to Tavernier.
I have no documents from 1942 to 1944 - a few ships sank off shore and the Upper, Middle and Lower Keys became a ghost county. The 1945 census shows the population of the entire Lower Keys as 5 people. The males were either in military service, or went to Key West to work in the naval facilities.
Now for the 1944 elections: In the Democratic First Primary election of May 2nd, 306 votes were cast by Democratic registered voters of District 5. Harry L. Harris received 136 votes and W.A. Parrish received 170 votes. So by a 56% to 44% vote, incumbent Harry Harris was defeated and W.A. Parrish of Marathon became the new District 5 County Commissioner.
In the General Election on November 7, 1944, Bernie Papy sponsored amendment number 8 to the Florida Constitution which changed the terms of the County Commissioners for the odd numbered Districts [1, 3 and 5] to 4 years. The even numbered districts [2 and 4] had one more 2 year term after which they changed to 4 years. The amendment passed 598 votes to 401 votes; therefore, there was some resistance. The timing was poor for Harry Harris however, as now he must wait four years until 1948 to challenge W.A. Parrish for his seat back.
Harris now devoted full time to his restaurant. Business was excellent with the workers from the construction of the water pipeline from Florida City to Key West. During this time he acquired the first Liquor License outside of Key West. Business was so good that from Mac he leased the former theater, now converted into a hotel, as room and board for the water pipeline workers. This work only lasted about one year, but some Navy/civilian personnel remained in Tavernier to maintain and operate the pipeline.
During WW-II he moved the business Harry's Bar and Restaurant, across the highway (bayside). Later and for some reason, according to the November 1, 1947 Florida Keys Weekly News published in Miami, he leased the bar and restaurant to Henry Bogard after a lapse of a few months. The lapse was caused by a political wrangle involving the nearness of the bar to the Tavernier Methodist Church a block away on Tavernier Street.
In December of 1947, the Upper Keys Chamber of Commerce was formed with McKenzie as president and Harris as one of the directors.
Now to the May 4, 1948 Primary elections: This was first time the Board of County Commissioners (BOCC) candidates had to campaign countywide. There were five candidates for District 5 in the First Democratic Primary. See chart below. For BOCC candidates, the difference was 306 votes cast in 1944 compared to 5,628 in 1948. The results were:
-William G. Curry (Rock Harbor) = 564
-Harry Harris (Tavernier) = 1,218
-Joe Johnson (?) = 834
-Edney Park (Islamorada) = 400
-W. A. Parrish (Marathon) = 597
* On page 837 the statistics are calculated by the canvassing board meeting on May 7, 1948.
No one received a majority of votes; therefore, a Second Primary was required with results as follows: Harry Harris = 2,401 and Joe Johnson = 2,155. Still there were no GOP candidates; therefore, Harry Harris was elected and remained the county commissioner for 28 consecutive years minus two months in 1976.
A comment here: the above appears to have been a close election, yet I cannot locate anyone today (July 5, 2011) who knows who Joe Johnson was, or where he lived - had to be between Marathon and Key Largo. He is not listed in the 1945 census, or in the 1952 phone book. This will be true for other candidates, even though they make a reasonable showing in elections.
On the other hand, there was candidate Edney Parker - a true Conch. Participated with the school board in the 1930s, worked as Sanitation Officer for FERA when the WW-I Veterans were here and father to 11 children. Every old-timer knew Edney Parker and his family members - some are still here.
At this time, unincorporated MoCo was just beginning to feel the post WW-II growth that was ahead. As previously mentioned, a Chamber of Commerce had been formed. The McKenzie's Shopping Center was the only of its kind in the unincorporated area - see 1938 photo. A hardware store and automotive garage have been added. Fishing, eating and drinking resorts are the main economy, and the building industry is growing, which supports more fishing, eating and drinking. Television, air conditioning, high schools and mosquito control are just ahead. The Overseas Highway will always be behind the level of service actually needed, as will the Florida Keys Aqueduct Association and Florida Keys Electric Coop. Harris will struggle with solid waste collection and ignore liquid waste disposal, but does an excellent job prodding the State Road Department with U.S. 1 upgrades, with Rep. Papy's help. In general, it is all uphill for Harry Harris with an almost exploding population during his tenure.
Let's also not forget that MoCo still did not have a county administrator, meaning the commissioners had to literally do all these functions. Politically that was important, as hiring, firing and promoting can be very useful political tools. Also, the Florida Sunshine Laws did not exist until much later. It was customary for the BOCC to have a workshop to discuss and decide all the business that was later to be conducted at the announced formal BOCC meeting. Their appointed boards and councils did likewise. With all this said, remember the population of unincorporated MoCo was only about 3,000 citizens in 1948.
The County Mayor acted as CEO of the other four commissioners. Two known examples of commissioner tasks were: Clarence Higgs was responsible for beaches and buildings, and Harry Harris was responsible for roads and grounds. To the best of my knowledge, the county did not levy taxes for road construction and maintenance. The State Road Department did the work and used the MoCo share of road and transportation taxes (e.g., gasoline tax, etc).
Also, I wish to present the other four MoCo commissioners serving in 1948. District 1: Joe Allen served from 1948 to 1960, then served as Property Appraiser 1960 to 1976, and then State Representative from 1976 to 1984. District 2: Frank Bentley 1944 to 1954. District 3: Clarence Higgs 1944 to 1962. District 4: Gerald Saunders 1946 to 1970. Note that Higgs, Saunders and Harris served simultaneously from 1948 to 1962; then, Freeman, Saunders and Harris served simultaneous from 1954 to 1970. Districts 1, 2 and 3 were Key West, District 4 was Stock Island to Marathon, and District 5 was Marathon to Key Largo. There were seven voting precincts then, and in 2011 there are 33 precincts.
After serving a four year term, 1952 was Harris' second try for reelection and he was successful. In the First Democratic Primary, Harris was challenged by Milton C. Peacock of Tavernier who lost by 2,298 to Harris' 3,977 votes - election is over with another easy primary victory. Milton Peacock was of the Coconut Grove Peacock family and operated a restaurant on Plantation Key.
For a reference, the population of all unincorporated MoCo in 1952 was up to about 5,000, which, by chance, was the same as the population of Key West in 1870. 1952 also was when the Rock Harbor Post Office name was changed to Key Largo. Coral Shores High School also added grade 12; it had grades 1-11 in 1951.
In 1955, Rep. Papy and Harris led the highway fishing piers project. The first infusion of funds was $50,000 from the state.
Relatively large development projects were started in the Upper Keys on the way to the 1956 election, such as the start of the Venetian Shores subdivision. Then the highway tolls were removed from the OSH in 1954, and the Ocean Reef Club opened its airport in 1956.
Harris had no challenging candidates in 1956 - so onward for another four years.
I have four copies of BOCC minutes, and the minutes of May 7, 1957 contains the following item [They are not even numbered] - "Secondary road in Burton Subdivision for recreation area - $4000.00." We who live in the subdivision have been told that the land for 'Harry Harris Park' had to be given as a dedicated park in his name as a bribe by Judge Tom Lummas to have Burton Drive (MM-92.5) built from US-1 to his proposed subdivision - about 1 mile. Perhaps it was, but I see now by the 3.3 acres being a recreation area, use of road funds could be appropriated without raising any eyebrows. Also this year, the plat for Plantation Key Colony on Plantation Key was approved for development.
I cannot resist the temptation of calling our small town a 'one-horse town.' Thanks to Shirley Faye Albury, below is a photo of Harry Harris' horse, Patsy, and buggy at Harry Harris Park. He was however, generally sighted riding the horse without the buggy. The horse was stabled where the Florida Keys Electric COOP complex is now, and Harris lived across the highway.
Forward to 1960 and the First Primary on May 3rd. Harris was challenged by Oliver Folmar of Tavernier who lost 2,386 to 4,933 to Harry Harris. Oliver was a local attorney with an office on Plantation Key and lost a bid for State Senator in the Special Primary Election in 1963.
Events in the early 1960s: former President Harry Truman visited the Upper Keys at Islamorada, the Marvin Adams Waterway was excavated, Charlie Ramos unseated Bernie Papy, ZIP codes went into effect and Layton was incorporated. The population of unincorporated MoCo was about 15,000 - close to one half of Key West and five times greater than when Harris was first elected.
The first recorded "Grass Roots" BOCC meeting outside of Key West was held in May of 1963, no official business was conducted. They met in Corals Shores High School with about 50 citizens attending. Harris acted as chairman and led off with: "We know what you need better than you do, and we know why you can't get it." [MH 5-5-1963] The audience was quiet. However, more bridges (after the million dollar Boot Key Bridge project) were not met with enthusiasm!
In the 1964 election, Harris faced two challengers, Homer Byrum and C. Floyd Majors, and again it was no contest. The First Primary votes were: Homer Byrum= 843, Harry Harris = 5,536 and C. Floyd Majors= 3,950. Again we do not know who Majors was. Byrum was a Tavernier resident and was elected Justice of the Peace in 1968.
In 1966, a number of businessmen of Marathon celebrated Sunday, December 4, 1966 as "Harry Harris Day" at Sombrero Beach. Walter Trandel unofficially headed the sponsoring of the event. When asked who was sponsoring the affair, Trandel said, "There were so many people who have donated money to show appreciation...." [KN 12-1-1966]
In the 1968 election cycle, Harris again had no challengers. Unincorporated MoCo's population had increased about 5,000 since the 1964 election. If you look back at the population graph, the rate of increase shows a slight increase at 1970 and, sometime around 1972 or 73, unincorporated MoCo and Key West had equal population - about 28,000.
About this time, Harris buys or leases his original Tavernier Cafe building for his County Commissioner office and usually shares space with other businessmen. It is still there next to the Tavernier Hotel. See photo at the right. Herbert Love III is a book keeper and the car is an early 60's Alpine Sunbeam.
The issue of curbing development was coming to the forefront. In the past, unincorporated MoCo was a virtual frontier. Times were changing. A few realized that Manhattan Island in New York was smaller than the Island of Key Largo, and growth could be a huge problem. Hurricane Donna in 1960 created an awareness of building codes and zoning; perhaps better said, the lack thereof. Local conservation and civic groups began to form, as well as affiliations to national groups. The troops were restless.
In a May 4, 1978 Keynoter article, Harris told writer Jackie Harder: "Action seekers came from the lower economic levels of the Keys." "The people with money didn't have time to fool with you. They just paid their taxes and did what they wanted to do. But the retirees and pensioners wanted "roads, lights, mosquito control - they wanted all these kinds of things, but they didn't have the money to pay for them."
For the Upper Keys, big news from the January 13, 1971 Key West Citizen: "With the new 'Mayor of Monroe County' at the wheel on the commission bench, at least for the next two years, the password is going to be: 'Progress'"
In the article, Harris laid down a five-point course of action to start the county "on a road to growth and development". In summary they were:
1. Work on the Master Plan for MoCo
2. A war on the pollution of the Florida Keys
3. Four-laning U.S. -1 starting with 15-miles north of Key Largo (referring to *Islandia.)
4. Upgrading the plat laws
5. Upgrading the zoning Department.
*[Islandia was a Dade County municipality connecting all of the remaining Upper Keys from Key Biscayne to the northern tip of Key Largo. It first brought attention in 1955. Since it connected to MoCo, it became a hot item here. Harris was the lead commissioner as it involved 'new roads.' Commissioner William Freeman was the sole dissenter in 1964. Elliott Key and more were to be six-lanes, and property was eminent domained for the highway right-of-way. I will present more in a separate History Talk - JW]
As the new BOCC Mayor, Harris convened and conducted the first BOCC meeting outside of Key West at Tavernier in March 1971, which began the rotation of the BOCC meetings. The key issue was the resolution to hire a County Administrator for $30,000 a year versus the $7,000 that each commissioner was being paid. (KN 3-25-71). County Administrators have been: William Roberts, Kermit Lewin, Tom Brown, Jim Roberts, Tom Willie and, currently, Roman Gastesi.
What was thought of as uncontrolled growth and population density, brought on three new District 5 commissioner challengers in 1972. Votes in the First Primary on September 12, 1972 were: Ann Golenkow =1,286; Harry Harris = 3,020; Robert Hostetler = 679 and Don Schloesser= 2,341. Harry Harris won the primary with a slim majority of 51.47%. Please note that the primaries have changed from early in the year to later.
Ann and her husband Bob Galenkow owned and operated the Matecumbe Motel. Robert Hostetler published The Reporter newspaper. Don Schloesser owned and operated a motel on Plantation Key.
As a result of the developers' largess, Harris had the best financed campaign of any of the four persons running for his seat. Of his $11,960 collected; however, $4,000 came from developers. Quote 5: "'There is nothing wrong in taking such contributions,' says Harris, who is listed in the campaign records as having put another $4,200 of his own money into the race."
Harris' strongest opponent, an anti high -rise Realtor, Don Schloesser, spent roughly only $3,400, $2,600 of that being from Schloesser's own pocket. The other two candidates got one contribution each, one for $25 and the other for $10. The high spending, coupled with the reputation and political IOUs built up over the years, paid off: Harris defeated all three challengers without even a runoff. He led in all but one of the Keys 23 precincts (the one he lost was in Key West) despite the odds against his victory given by three-out-of-four Key West political observers.
For reasons not stated, on April 12, 1973, Harris divorced his wife Hazel of 30 years.
A surprise for locals followed. On May 3, 1973, Harris married Carol Blackburn, who was the sister of long time Tavernier local and Coral Shores office manager Kay Wilkinson. They eloped across the state border to secretly marry in Georgia. [KN 5-3-73]
Rapid growth and loss of environmental resources throughout Florida, especially in coastal areas, concerned the Florida legislators and in 1970 it created the Florida Coastal Coordinating Council. I am not certain of the specific timing, but one proposed project on North Key Largo was Ocean Forest, which insisted on vested rights for 12,628 units. That single project, with two people per unit would have been larger in population than Key West. Keys-wide, there were 51 other projects in various stages of proposals.
The stepping stones of Ocean Reef, then Islandia, and a new spurt of growth, specifically but not limited to North Key Largo, triggered the designation of Key West and Monroe County as an 'Area of Critical State Concern.' It was actually 1974, but a legal review postponed enactment to 1975. In 1977, Coastal Management was transferred to Department of Environmental Regulation (DER) and in 1992 was transferred to Department of Community Affairs (DCA).
In 1969, the 'South Florida Regional Planning Council' for Dade, Broward and Monroe Counties was created. MoCo commissioners William Carter and John Parker were appointed as MoCo representatives.
Harris was proud of his pro-growth stance and never looked back. Quote 6: "To Harris, such growth is good. He is proud, for instance, that the tax roll of the Keys has grown from $9 million or so when he first got on the commission - 'and half of that was exempt' - to some $400 million today. It is a tax roll that promises to keep growing as housing developments and mobile home parks continue to sprout throughout the Keys. There are those in Monroe County; however, who are not so sure that this growth is all good. It is taxing the Keys, they say, beyond their capacity.
'Everybody thinks that,' says Harris. 'Retirees, all they want to do is fish. They don't want roads. They don't want nobody to come here cause they got theirs. They don't want it to get crowded like in Chicago or Cleveland.' Please note that Tavernier where his office and bar were, was 4-laned first and has the only sidewalks on US-1.
The prospect or growth per se doesn't disturb Harris, nor does the idea of trailer parks and high-rises, rallying points for the anti-growth elements. 'What reason have you got to turn them down - just because you don't like trailer parks? When you set as a judge on something like this zoning, you can't take your personal feelings and deny a man his livelihood. This is still America. I think there is a place for trailer parks. I think there's a place for condominiums. I think there's a place for single family homes but not together.' That, he says, is where zoning comes in, designating a proper place for everything."
Since the subject has been brought up, Harry Harris did not like to fish and I have never heard of a fish story in relation to Harry Harris. I also wish to comment on the above statement of the tax roll going from "$9 million" o "$400 million today." The 'today' was 1974 and the total taxes collected for the year 1974-1975 was $12,502,100.46 - huge gap from $400M. The revenues of 2010-2011 were $225.3M.
On April 15, 1975, a Dade County Grand Jury indicted MoCo Commissioner Harry Harris on two counts of allegedly bribing MoCo Commissioners Carter and Parker to approve a Broward County 'Century Village South' project in February, 1974.
Gov. Reubin Askew suspended Harris on April 22, 1975 and appointed Martha Mae Wedel of Tavernier on April 28, 1975 until "...further executive order." Mrs. Wedel was the Upper Keys bureau chief for the Keynoter newspaper. [FA papers]
[A comment from the writer: The drought of media documentation almost instantly reversed once the Grand Jury indictment was announced.]
According to the trial testimony in Miami, the bagman allegedly left $15,000 in the home of Harris. The bagman himself had been accused, but turned state's evidence and was given immunity. In June, 1975, a six person jury at the District Circuit Court found Harris not guilty. [FA 6-20-7]
The Dade County Grand Jury then returned the second indictment against Harris that he had accepted unauthorized compensation for a favorable vote on a zoning appeal. [MH 6-23-75] This indictment is not in the FA documents.
The new charge involved the zoning for the 'Snake Creek Development Corporation's' 560-unit apartment complex on Plantation Key. The Zoning Board had refused a rezoning change in 1973 and again in 1974. The BOCC overturned the Board's refusal in July 1974 by a 4-1 vote. Allegedly, an $18,000 bribe for this vote was sought and paid between July 1 and November 1 of 1974. The bagman then perjured himself, but legal questions resulted over the two witnesses required and eventually the charges were dropped. [MH undated]
A Key West Citizen article published October 8, 1975 contained much of the same and added a telephone quote from Harris: "I am indeed a happy man. I felt all along that I would be vindicated for I knew I was not guilty of the charges. It was a waste of taxpayers' money. What's more," he added, "it has been real embarrassing to me and my family."
The Florida State Attorney, Richard Gerstein, dismissed all charges on October 7, 1975 and Gov. Askew reinstated Harris by Executive Order 75-17 dated and signed on October 16, 1975. [FA] His fellow commissioners agreed he should continue as the MoCo Mayor.
From the Florida Archives, there were considerable letters and telegrams on October 9 and 10 for reinstatement. To be fair there were some to not reinstate him for he was "out of touch" and they were very pleased with Commissioner Wedel. The majority were pro-Harris.
My comment is it requires time to justify an executive order. There was no hue and cry when it took seven days for suspension after the indictment, which is more or less automatic.
For the record, the [FA 10-14-75] contains a Notice of Prehearing Conference scheduled for November 5, 1975 at 6 PM pursuant to rule 12.7(e) Rules of Florida Senate. There was a cancellation dated October 28th. This committee evolved into the 1990 Ethics Committee. I am aware of no action here.
After being reinstated as Mayor on 16 October, among the key issues before the commission, Harris said, are the guidelines to meet critical state concern and "our bicycle path in Key Largo. The path," he said, "has not been completed." [MH 10-17-75].
One of the last successes Harris had as commissioner was the Key Largo bike path. From The Reporter newspaper January 16, 1975: "...At the January 7th County Commissioners Meeting in Marathon, Mayor Harry Harris spoke strongly in favor of the much needed bike path for Key Largo.... Mayor Harris made the proposal and the Commissioners voted unanimously to have the County using $50,000 of Monroe County Secondary Funds, matching the $50,000 Federal Grant...."
Preparations for the 1976 elections began. It appears that Harris did not immediately leap into candidacy, and MoCo Democratic State Committeewomen Connie Gibbs announced she was a candidate for commissioner. [RP 5-5-76]
A significant May, 1976 event was the dedication of the 'Adams Waterway' which had remained closed off since 1963. Mayor Harris, John Pennekamp and Marvin Adams officiated the 20 minute ceremony. [RP 5-27-76]
The following month, June, Harris announced that he was a candidate for District 5 County Commission and that key Democratic members supported him. Ms. Gibbs withdrew and served as Harris' campaign manager. [RP 6-10-76]
As Harris' campaign manager, Ms. Gibbs received a death threat in July if she didn't stop working for Harris. This was turned over to the sheriff and the FBI. [RP 7-23-76]
Now for the September 7th First Primary 1976 Election with three candidates: Tom Fouts = 791; Harry Harris = 4,336 and Don Schloesser = 5,758 which was 52.8% of the total votes; therefore, defeating Harry Harris in a primary with four candidates. Don was now also president of Upper Keys Citizens Association. All three incumbent Commissioners, Harris, Parker of District 1 and Pritchard of District 3 lost their positions.
Back to the election 1976: Schloesser outspent Harris roughly $13,800 to $12,400 in a campaign that saw two other BOCC commissioner incumbents, Harry Pritchard and John Parker, defeated. Schloesser's money came in generally small amounts from a large number of people. Harris's came in large amounts, sometimes $500 to $1,000, from fewer persons, many associated with development interests.
As the end of 1976 approached, Harris resigned two months before the end of his term. The reason for resigning is not clear.
Then from a Keynoter article dated March 4, 1978, I excerpt: "...A few weeks ago, Mr. Harris was admitted to the hospital with fluid on his lungs. The fluid was pumped out and a few days later he was back at his office-den on the bottom floor of his house, surrounded with mementoes of his - and the county's - colorful past...."
From The Reporter dated July 13, 1978: "Harry Harris of Tavernier, died late Saturday morning at Cedars of Lebanon Hospital in Miami at age 73, two weeks before his 74th birthday.... His survivors include his wife Carol of Tavernier, two brothers, Euell of Calation, Ill. and Lyman of McAllen, Tex. and a niece, Mrs. Frank Thomas of Carlin, Ill.
Services were held Wednesday, July 12, at the Coral Isles Church on Plantation Key with Rev. William North and Rev. Richard Pedigo of Burton Memorial Methodist Church officiating. Following cremation his ashes will be strewn by plane over the Keys he loved so well."
Next we read from the Keynoter dated March 14, 1985: "Friends gathered at Harry Harris Park on March 8 to dedicate a monument in the memory of the park's namesake.... According to the memorial organizer Budd Post, there were other people who donated the time and the work. Sam Erb, the stonemason, built the monument and Joe Friends welded the flagpole together.
Mr. Harris is at rest now. According to Mrs. [Kay] Wilkinson, the ashes of Mr. Harris, formerly at the hurricane monument in Islamorada, now are enclosed in the park memorial."
The inscription reads: "Harry L. Harris, born July 12, 1904, died July 8, 1978. A pioneer during the days of the Keys emergence, he continued the traditions of Planter and Tavernier settlers in caring for their own. He served his fellow citizens in Monroe County as a County Commissioner for 34 years (1942-1976.) He is remembered with esteem and affection by his family, neighbors and countless friends. This memorial is dedicated in his honor, March 1985."
In closing, as commissioner for District 5, Don Schloesser served his 4-year term and was defeated by Rep. Ken Sorensen, who was defeated by Rep. John Stormont in 1984. All five County Commissioners are now Republicans.
The Tavernier Cafe/Harris's office is at the original location, and now serves as the Tavernier Hotel's registration office.
Tavernier is the only community in unincorporated MoCo that is four laned with curbs and sidewalks.
-----End-----

Return to General Keys History